Juvenile Long-billed Dowitcher, Warroad sewage ponds, 30 August
(Craig Mandel photo)
* * *
ROSEAU & LAKE OF THE WOODS MBW SUMMARY
Aug 30 - Aug 31 - Sept 1 - Sept 2, 2019
Ross's Goose, near Warroad, 30 August (Craig Mandel photo)
We've now had a total of 17 Labor Day MBWs up in this remote part of the state, with a long list of rarities seen over the years – these have even included such unlikely strays as Red Knot, Long-tailed Jaeger, Little Gull, Little Blue Heron, Yellow-crowned Night-Heron, and Prairie Falcon. While none of our best finds this year can match the calibre of any of those, we still had another successful MBW here. Our composite total of 155 species was nearly exactly at our average (= 156); note that this MBW has varied beween 138 species (our lowest in 2011) to our best-ever total of 171 (in both 2008 and 2010). And among our highlights were... [Spoiler Alert! – the following summary includes three new County Birds for my lists]
Our best waterfowl were the early Ross's Goose at the Warroad sewage ponds (also photographed by Craig just outside of Warroad early that evening), an equally early Cackling Goose noticed by some as it flew over the Super 8 parking lot (along with 2,000+ Franklin's Gulls), and the Trump(eter) Swans (a.k.a. Donald Ducks?) at Brown's Lake – new for my Lake of the Woods list. Unfortunately, the Gray Partridges that I lucked into on Roseau CR 9 weren't there the next day, but a lone Sharp-tailed Grouse did run across the road in front of my group en route to Roseau River WMA. One lowlight was our total of only 13 shorebirds, which ties our lowest number ever (in 2006) and is far below our best shorebird list in 2008 when we had no fewer than 25 species. This year the Warroad sewage ponds was our only decent shorebirding spot and included a juvenile Long-billed Dowitcher and Red-necked Phalarope (Red-neckeds were also at Badger's sewage ponds).
After an absence of four years (when too many soybeans were planted), Short-eared Owls once again appeared at dusk NE of Roseau along 350th Street – just like they used to as hayfields and grasslands returned to the landscape. Nearby in Roseau itself earlier that day were an unexpected Red-bellied Woodpecker and Gray-checked Thrush (both new for my Roseau list), at the sewage ponds a cooperative flock of late Bobolinks came down and landed for all to see in the scopes, and a concentration of at least 50 Black-billed Magpies was found in a single field SW of town. Meanwhile, Lake of the Woods County provided us with Western Kingbirds, an Alder Flycatcher was strangely still singing vigorously away (if you could hear it, that is), and Red Crossbills happened by at three places near Norris Camp – as suspected, Matt Young at Cornell confirmed their identity as Type 2.
Besides shorebirds, sparrows were another disappointment since we could only turn up seven species (which has to be our lowest total ever on this MBW), and unfortunately the only LeConte's was only seen by Craig and a few others early Friday evening just SW of Warroad. But one consolation was our composite list of 20 warbler species, which actually ties the most we've ever had on this MBW (we've done this about four other times). Although we found warblers at lots of places, we never came across any real concentrations or waves anywhere.
On behalf of everyone, I especially thank Craig for his contributions as co-leader (he again was underpaid, of course, but at least I never had cause to fire him); Gretchen Mehmel for serving as our hostess at Norris Camp (with indoor plumbing!) and taking time to guide us to a couple of nearby birding sites; and 9-year old Cooper who justly earned the coveted JTLMB for coming on his first MBW as the youngest MBWer ever in our 34-year history. –Kim Eckert
Bird List
R = seen in Roseau County
L = seen in Lake of the Woods County
Ross's Goose R
Cackling Goose R
Canada Goose RL
Trumpeter Swan RL
Wood Duck R
Blue-winged Teal R
Northern Shoveler R
Gadwall R
American Wigeon R
Mallard R
Northern Pintail R
Green-winged Teal R
Canvasback R
Redhead R
Ring-necked Duck RL
Common Goldeneye R
Hooded Merganser RL
Ruddy Duck R
Gray Partridge R (leader-only)
Ruffed Grouse R (heard-only)
Sharp-tailed Grouse R
Pied-billed Grebe RL
Horned Grebe R
Red-necked Grebe RL
Rock Pigeon RL
Mourning Dove RL
Common Nighthawk RL
Ruby-throated Hummingbird RL
Virginia Rail R
Sora R
American Coot R
Sandhill Crane RL
Killdeer R
Semipalmated Plover R
Stilt Sandpiper R
Least Sandpiper RL
Pectoral Sandpiper R
Semipalmated Sandpiper R
Long-billed Dowitcher R
Wilson's Snipe R
Spotted Sandpiper RL
Solitary Sandpiper R
Lesser Yellowlegs RL
Greater Yellowlegs R
Red-necked Phalarope R
Bonaparte's Gull RL
Franklin's Gull RL
Ring-billed Gull RL
Herring Gull RL
Caspian Tern R
Black Tern R
Common Tern L
Forster's Tern R
Double-crested Cormorant RL
American White Pelican RL
Great Blue Heron R
Green Heron R
Turkey Vulture RL
Northern Harrier RL
Sharp-shinned Hawk RL
Cooper's Hawk R
Bald Eagle RL
Broad-winged Hawk RL
Red-tailed Hawk RL
Great Horned Owl R (heard-only)
Short-eared Owl R
Belted Kingfisher RL
Red-headed Woodpecker R
Red-bellied Woodpecker R
Yellow-bellied Sapsucker RL
Downy Woodpecker RL
Hairy Woodpecker RL
Northern Flicker RL
Pileated Woodpecker L (heard-only)
American Kestrel RL
Merlin RL
Peregrine Falcon R
Great Crested Flycatcher RL
Western Kingbird L
Eastern Kingbird RL
Olive-sided Flycatcher RL
Eastern Wood-Pewee R
Alder Flycatcher L
Least Flycatcher R
Eastern Phoebe RL
Yellow-throated Vireo L
Blue-headed Vireo L
Philadelphia Vireo RL
Warbling Vireo RL
Red-eyed Vireo RL
Canada Jay RL
Blue Jay RL
Black-billed Magpie RL
American Crow RL
Common Raven RL
Bank Swallow R
Tree Swallow R
Purple Martin R
Barn Swallow RL
Cliff Swallow RL
Black-capped Chickadee RL
Red-breasted Nuthatch RL
White-breasted Nuthatch RL
Brown Creeper L (heard-only)
House Wren RL
Sedge Wren R
Marsh Wren R
Ruby-crowned Kinglet R
Eastern Bluebird R
Gray-cheeked Thrush R
Swainson's Thrush RL
Hermit Thrush R
American Robin RL
Gray Catbird RL
European Starling RL
Cedar Waxwing RL
House Sparrow RL
House Finch R
Purple Finch RL
Red Crossbill L
Pine Siskin RL
American Goldfinch RL
Chipping Sparrow RL
Clay-colored Sparrow R
White-throated Sparrow RL
LeConte's Sparrow R
Savannah Sparrow RL
Song Sparrow RL
Swamp Sparrow RL
Bobolink R
Baltimore Oriole R
Red-winged Blackbird RL
Common Grackle RL
Ovenbird R
Northern Waterthrush RL
Golden-winged Warbler RL
Black-and-white Warbler RL
Tennessee Warbler RL
Nashville Warbler RL
Common Yellowthroat RL
American Redstart RL
Cape May Warbler R
Northern Parula R
Magnolia Warbler RL
Bay-breasted Warbler R
Blackburnian Warbler R
Yellow Warbler RL
Chestnut-sided Warbler RL
Blackpoll Warbler RL
Yellow-rumped Warbler RL
Black-throated Green Warbler L
Canada Warbler R
Wilson's Warbler RL
Scarlet Tanager L
Rose-breasted Grosbeak RL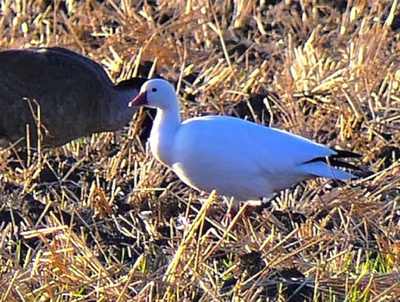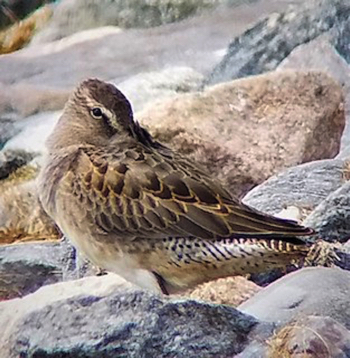 Thanks to Wayne Johnson of Thief River Falls public works
for his continuing hospitality in permitting access to birders.
(Sherry Gray photo)
We sort of suspected our 19th Labor Day Weekend MBW in northwestern Minnesota would be challenge. Drought conditions were perhaps worse in this part of the state than any other, and the recent bird reports there were few in number and not very encouraging. And it didn't help that it was on the windy side much of the time, especially Monday when the winds were up to 25 mph. As a result, we managed to come up with a modest total of 147 species in all, including the 8 found only on Friday's pre-MBW in Polk Co (which also ventured a bit into Marshall). As expected, this was below the average of 155 species for this MBW, which has ranged between a high of 171 and a low of 138.
Probably the main reason this MBW's total was on the low side was the relative lack of water birds due to many dried-up wetlands areas. This was most noticeable in the lack of shorebirds, as we could only find 13 species, just one more than our lowest-ever total of 12 (our best-ever total was 25 shorebirds). But at least our composite total of 19 warbler species was about as good as we ever do, since 20 is the most we've ever come up with (and we've done that several times). One interesting aspect of this was the general lack of warblers in the wooded areas Craig et al. tried in Polk Co on Friday, while they found the most in the sunflower fields they stopped at – including a Northern Waterthrush and Wilson's Warbler perched on power lines over these fields.
Among our highlights over the four days were Sharp-taiied Grouse walking across a back road in front of half the group, Wild (and not-so-wild) Turkeys for the benefit of Marshall County listers, and Eurasian Collared-Doves in a Thief River Falls neighborhood. Our better shorebirds were a Stilt Sandpiper (seen by Brad), Sanderling at the TRF sewage ponds, and Red-necked Phalaropes there and at Karlstad's sewage ponds. A Caspian Tern at TRF's ponds was unexpected, distant Great Egrets were at Agassiz NWR, Merlins were migrating everywhere, a LeConte's Sparrow near East Park WMA was a good find by half the group, and the best warbler was a Connecticut at Old Mill State Park (but seen only by Craig and Jerry).
Bird List
pre = Polk County pre-MBW (Sept 3)
P = Pennington County (Sept 4, 5, 6)
M = Marshall County (Sept 3, 4, 5)
K = Kittson County (Sept 5)
Canada Goose pre P M K
Trumpeter Swan pre M K
Wood Duck P K
Blue-winged Teal pre P M K
Northern Shoveler pre P M
Gadwall pre M
American Wigeon P M
Mallard pre P M K
American Black Duck M
Northern Pintail M
Green-winged Teal P M K
Canvasback P M
Redhead P M
Ring-necked Duck pre P M K
Common Goldeneye pre P M
Hooded Merganser pre P M
Ruddy Duck P M
Ring-necked Pheasant pre
Ruffed Grouse K
Sharp-tailed Grouse K
Wild Turkey M
Pied-billed Grebe pre P M K
Horned Grebe P M
Red-necked Grebe pre P M
Eared Grebe P M
Rock Pigeon pre P M K
Eurasian Collared-Dove P
Mourning Dove pre P M K
Common Nighthawk pre P M
Ruby-throated Hummingbird pre P M K
Virginia Rail K
American Coot pre P M K
Sandhill Crane pre P M K
Killdeer pre P M K
Semipalmated Plover K
Stilt Sandpiper pre
Sanderling P
Baird's Sandpiper P M
Least Sandpiper pre P M
Pectoral Sandpiper P
Wilson's Snipe pre
Spotted Sandpiper pre P M
Solitary Sandpiper P K
Lesser Yellowlegs pre P M K
Greater Yellowlegs pre P M K
Red-necked Phalarope P K
Franklin's Gull pre P M
Ring-billed Gull pre P M
Caspian Tern P
Black Tern P M
Double-crested Cormorant pre P M K
American White Pelican pre M K
Great Blue Heron P M
Great Egret M
Green Heron M K
Turkey Vulture pre P M K
Northern Harrier pre P M
Sharp-shinned Hawk P M K
Cooper's Hawk pre P K
Bald Eagle pre P M K
Broad-winged Hawk P M K
Red-tailed Hawk pre P M K
Great Horned Owl M
Belted Kingfisher P M K
Red-headed Woodpecker pre
Red-bellied Woodpecker P
Yellow-bellied Sapsucker pre P M K
Downy Woodpecker pre P M K
Hairy Woodpecker pre P M K
Northern Flicker pre P M K
Pileated Woodpecker P M K
American Kestrel pre P M K
Merlin pre P M
Peregrine Falcon pre
Great Crested Flycatcher pre
Eastern Kingbird pre M
Olive-sided Flycatcher pre K
Eastern Wood-Pewee pre P M K
Alder Flycatcher P
Least Flycatcher pre K
Eastern Phoebe pre M K
Yellow-throated Vireo P M K
Blue-headed Vireo pre P K
Philadelphia Vireo pre P M K
Warbling Vireo pre
Red-eyed Vireo pre P M K
Blue Jay pre P M K
Black-billed Magpie M K
American Crow pre P M K
Common Raven pre P M K
Horned Lark P
Tree Swallow pre P M
Barn Swallow pre P M K
Black-capped Chickadee pre P M K
Red-breasted Nuthatch P M K
White-breasted Nuthatch pre P M K
House Wren pre P
Sedge Wren pre M K
Marsh Wren pre P K
Ruby-crowned Kinglet P K
Eastern Bluebird P K
Swainson's Thrush pre P M
American Robin pre P M K
Gray Catbird pre P K
Brown Thrasher pre
European Starling pre P M K
Cedar Waxwing pre P M K
House Sparrow P K
Purple Finch P K
Pine Siskin P
American Goldfinch pre P M K
Chipping Sparrow P M K
Clay-colored Sparrow pre P M K
White-throated Sparrow P K
Vesper Sparrow pre P K
Leconte's Sparrow M
Savannah Sparrow pre P M K
Song Sparrow pre M
Lincoln's Sparrow pre M K
Swamp Sparrow pre P M
Yellow-headed Blackbird P
Bobolink pre P M
Western Meadowlark pre M
Baltimore Oriole pre P
Red-winged Blackbird pre M
Brewer's Blackbird pre K
Common Grackle pre M
Ovenbird P
Northern Waterthrush pre P M
Black-and-white Warbler pre P M K
Tennessee Warbler pre P M K
Orange-crowned Warbler P
Nashville Warbler pre P M K
Connecticut Warbler M
Common Yellowthroat pre P M K
American Redstart pre P M K
Cape May Warbler M K
Magnolia Warbler pre K
Bay-breasted Warbler K
Blackburnian Warbler P
Yellow Warbler pre P M K
Chestnut-sided Warbler pre P M K
Blackpoll Warbler M K
Palm Warbler pre M K
Yellow-rumped Warbler P M K
Wilson's Warbler pre P
Rose-breasted Grosbeak pre P M
PHOTO GALLERY
* * *
Northwestern Minn. MBW / Polk pre-MBW Summary
September 3 - 4 - 5 - 6, 2021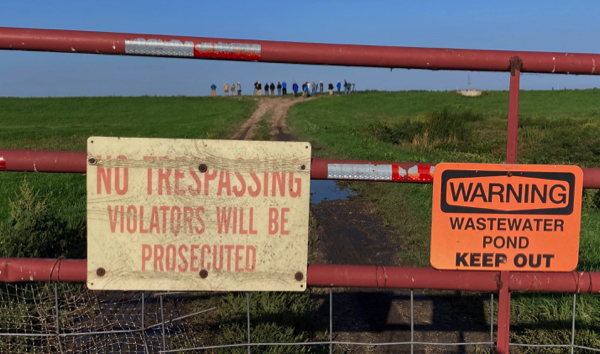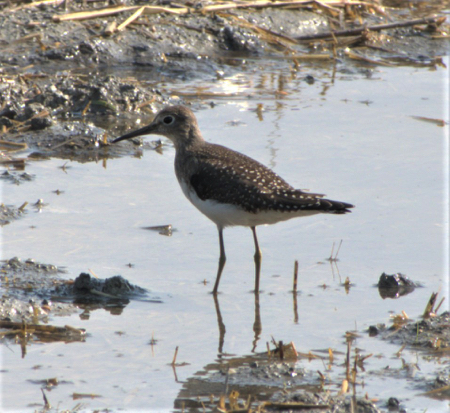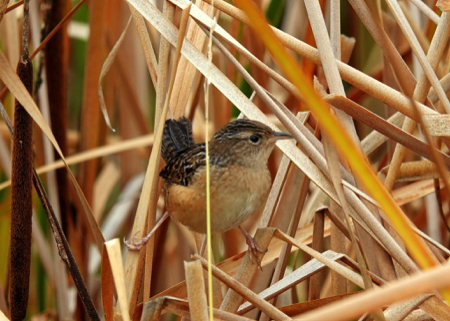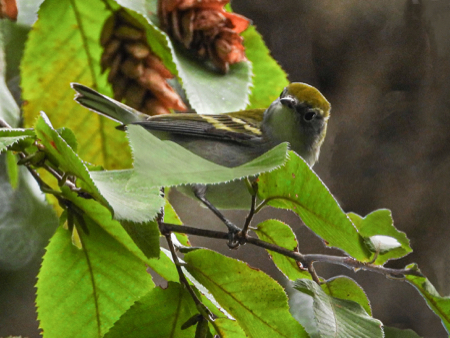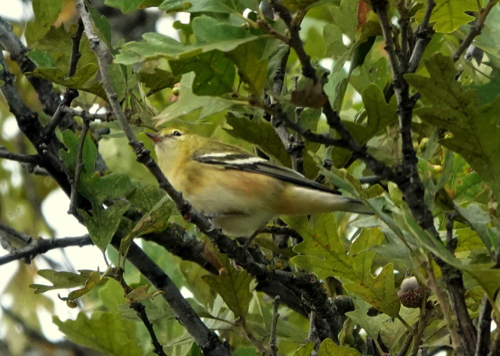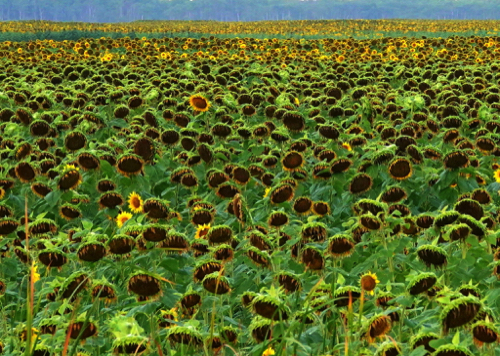 Solitary Sandpiper – one of only 13 species on this MBW
(Jeff Stephenson photo)
One of many migrating Merlins
(Jeff Stephenson photo)
Bay-breasted Warbler – not a Blackpoll for a change
(Jerry Pruett photo)
Polk County warbler habitat
(Jerry Pruett photo)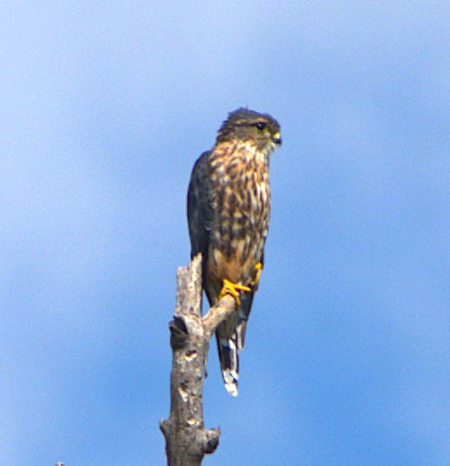 Note that these MBWs included other counties which
are near Kittson and recorded species possible on the 2023 MBW
__________
LAKE OF THE WOODS & ROSEAU MBW SUMMARY
September 1 - 2 - 3 - 4 - 5, 2022
This was our 20th consecutive MBW on Labor Day weekend to relatively remote northwestern Minnesota, and, as always, we came up with an interesting assortment of birds. The weather mostly cooperated, with light to moderate winds on all five days, and there was no rain to slow us down. It may have been too warm in the 80s on Thursday afternoon, but temperatures moderated nicely the rest of the weekend, although it was somewhat disappointing that Friday's cold front failed to produce much migration – so maybe some rain showers might have grounded some migrants and would have been welcome.
Our composite species total of 163 was only 8 shy of this MBW's all-time record of 171, but this was primarily the result of having an extra day of birding this year. This MBW is normally 3 or 4 days long, not 5, and the average species total is 155 – so remove the extra day, and we would probably have been in the 150s.
Our target every year is to find both 20 shorebirds and 20 warblers, but we have never quite managed to do both on this MBW. We came up with 19 warbler species this time, which is probably close to average (an even 20 is the most we've had, and we've done that several times). We found no real significant waves of warblers and other migrants this year, save for the few miles worth of non-stop passerine activity along Pitt Grade Forest Road on Thursday morning. Indeed, our usually dependable sites for migrants at Zippel Bay State Park, Warroad, Springsteel Island, and Roseau City Park were mostly disappointing.
Meanwhile, our total of 17 shorebirds was quite respectable, given that none of the sewage ponds we checked in these counties or the drawn-down pools at Agassiz held more than a few species. But we chanced upon the pair of flooded fields at South Shore WMA on Friday afternoon, plus the mudflats in fields along MN Hwy 310 on Saturday and on 360th Ave the next day. These combined to give us a total of 12 Buff-breasted Sandpipers, both American Golden- and Black-bellied plovers, as well as Stilt, Baird's, Solitary, and other sandpipers.
Some of our other highlights included unseasonal Snow and Cackling geese, a Eurasian Collared-Dove in Roseau (a rarity in northwest MN), lots of Sandhill Cranes, Great Egrets at Roseau River WMA (also rare this far north), an unexpected Black-backed Woodpecker along MN 310, a Peregrine Falcon at Agassiz, and two concentrations of Black-billed Magpies: about 40 or so just east of Roseau River WMA, and at least 30 going to roost near the Roseau sewage ponds.
Bird List
• L = Lake of the Woods County, Sept 1-2 (121 species)
• R = Roseau County, Sept 3-4 (126 species)
• Mon = Monday only (mostly at Agassiz NWR, Marshall Co.)
Snow Goose R
Cackling Goose R
Canada Goose LR
Trumpeter Swan LR
Wood Duck LR
Blue-winged Teal LR
Northern Shoveler LR
Gadwall LR
American Wigeon LR
Mallard LR
American Black Duck R
Northern Pintail LR
Green-winged Teal LR
Canvasback R
Redhead LR
Ring-necked Duck LR
Lesser Scaup R
Bufflehead LR
Common Goldeneye LR
Hooded Merganser LR
Ruddy Duck R
Wild Turkey Mon
Ruffed Grouse L
Gray Partridge R
Pied-billed Grebe LR
Horned Grebe R
Red-necked Grebe LR
Eared Grebe R
Western Grebe Mon
Rock Pigeon LR
Eurasian Collared-Dove R
Mourning Dove LR
Black-billed Cuckoo Mon
Ruby-throated Hummingbird LR
Virginia Rail R
Sora R
American Coot LR
Sandhill Crane LR
Black-bellied Plover R
American Golden-Plover LR
Killdeer LR
Semipalmated Plover LR
Stilt Sandpiper LR
Baird's Sandpiper L
Least Sandpiper LR
Buff-breasted Sandpiper LR
Pectoral Sandpiper LR
Short-billed Dowitcher L
American Woodcock R
Wilson's Snipe R
Spotted Sandpiper LR
Solitary Sandpiper LR
Lesser Yellowlegs LR
Greater Yellowlegs LR
Red-necked Phalarope R
Bonaparte's Gull LR
Franklin's Gull LR
Ring-billed Gull LR
Herring Gull LR
Caspian Tern L
Forster's Tern LR
Common Loon L
Double-crested Cormorant LR
American White Pelican LR
American Bittern R
Great Blue Heron LR
Great Egret R
Green Heron LR
Turkey Vulture LR
Northern Harrier LR
Sharp-shinned Hawk LR
Cooper's Hawk LR
Bald Eagle LR
Broad-winged Hawk L
Red-tailed Hawk LR
Great Horned Owl R
Belted Kingfisher LR
Red-headed Woodpecker R
Yellow-bellied Sapsucker LR
Black-backed Woodpecker R
Downy Woodpecker LR
Hairy Woodpecker LR
Northern Flicker LR
Pileated Woodpecker LR
American Kestrel LR
Merlin LR
Peregrine Falcon Mon
Eastern Kingbird LR
Olive-sided Flycatcher L
Eastern Wood-Pewee LR
Least Flycatcher LR
Eastern Phoebe LR
Yellow-throated Vireo Mon
Blue-headed Vireo L
Philadelphia Vireo LR
Warbling Vireo LR
Red-eyed Vireo LR
Blue Jay LR
Black-billed Magpie LR
American Crow LR
Common Raven LR
Black-capped Chickadee LR
Bank Swallow L
Tree Swallow LR
Purple Martin L
Barn Swallow LR
Cliff Swallow LR
Ruby-crowned Kinglet LR
Golden-crowned Kinglet LR
Cedar Waxwing LR
Red-breasted Nuthatch LR
White-breasted Nuthatch LR
Brown Creeper LR
House Wren LR
Sedge Wren LR
Marsh Wren LR
Gray Catbird LR
Brown Thrasher Mon
European Starling LR
Veery L
Swainson's Thrush L
American Robin LR
House Sparrow LR
Purple Finch LR
Pine Siskin LR
American Goldfinch LR
Chipping Sparrow LR
Clay-colored Sparrow L
White-throated Sparrow LR
Vesper Sparrow LR
Savannah Sparrow LR
Song Sparrow LR
Lincoln's Sparrow LR
Swamp Sparrow LR
Yellow-headed Blackbird L
Bobolink LR
Western Meadowlark R
Baltimore Oriole L
Red-winged Blackbird LR
Brown-headed Cowbird L
Brewer's Blackbird Mon
Common Grackle LR
Ovenbird LR
Northern Waterthrush LR
Golden-winged Warbler L
Black-and-white Warbler LR
Tennessee Warbler LR
Nashville Warbler LR
Common Yellowthroat LR
American Redstart LR
Cape May Warbler R
Magnolia Warbler LR
Bay-breasted Warbler LR
Blackburnian Warbler L
Yellow Warbler LR
Chestnut-sided Warbler LR
Blackpoll Warbler R
Palm Warbler LR
Yellow-rumped Warbler LR
Black-throated Green Warbler R
Wilson's Warbler L
Scarlet Tanager L
Rose-breasted Grosbeak LR